The TWIN-CS community is glad to celebrate Catholic Schools Week with principals, teachers, parents, and students all around the United States. We look forward to hearing about the many ways the TWIN-CS members are celebrating!
To start the week off right, we are proud to share some great facts about Catholic schools with our readers and thank NCEA for providing these wonderful "Catholic School Snaps!"
Who attends college? Catholic school graduates certainly do!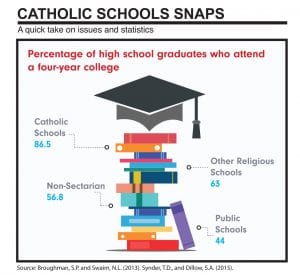 Catholic schools contribute indirectly to the national economy in substantial, but indirect ways. According to research conducted by the NCEA, Catholic schools save $21 billion in education spending annually.
-Mary Bridget Burns, Assistant Director for TWIN-CS